Friday August 16th, 2019
— Consejos
Post wedding session in Ibiza: useful tips to make it
Weddings are unique and unforgettable moments that remain in our memories. There is no wedding without a photographer, as it is a day when all couples want to keep a memory in images that allow them to see it whenever they want and show it to their future generations.
In fact, wedding reports are always one of the first things you look for when organizing a wedding. However, on the day of the wedding everything seems to happen in a flash and usually the couples are aware of many things and do not pay enough attention to the moment of the photos.
Many couples hire post wedding photography a few days after the wedding has taken place. This is because they are aware that on that day they are not paying attention to everything that happens around them or to the images that are recorded of their event.
In view of this situation, the bride and groom do a post-wedding session in which they dress again as on the wedding day and take photos in special places and spending the time they want to spend on the wedding photos.

Advantages of an after-wedding session
Doing an post wedding session in Ibiza can bring you many advantages that will help you end up having a nice memory of your wedding and for life.
Recreate that moment
If the wedding is already a special moment and with a lot of emotion when you have an after-wedding in Ibiza you will be able to recreate all those emotions and sensations. Without a doubt, you will have the opportunity to relive those moments and feel special again but now without the pressure of the event, without being surrounded by so many people and family that can overwhelm you.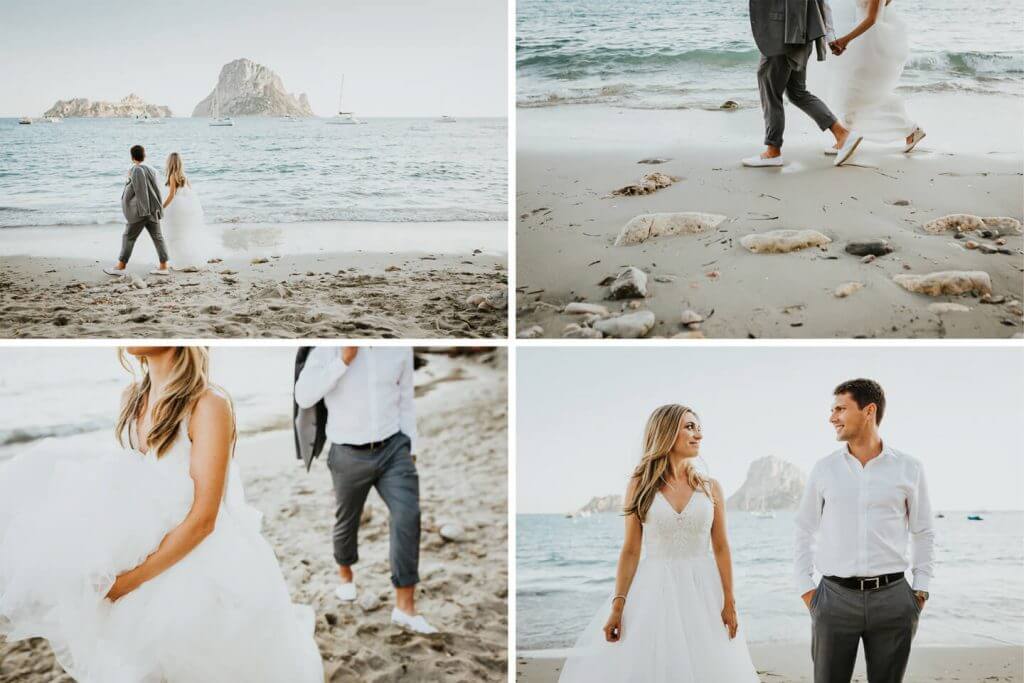 Make sure you have a nice memory
Thanks to these post-wedding sessions you can have a very special wedding photo album. You will be able to increase your wedding photo album with those photos that you have not been able to take that day due to lack of time or the pressure of the environment and circumstances. It's time to innovate and give that special touch to your photo album so you can remember it all your life.
Make the most of your dress
Usually the wedding dress is a garment that is worn only once in a lifetime and then stored in a closet or lent or given away for other brides. In your post-wedding report you will be able to wear it again and say goodbye to this garment properly.
An opportunity to innovate
A great advantage of doing this report is that you will have the opportunity to take photos that you had not planned for your wedding day. This way, you will give a new and different approach to your wedding report. You can choose new places to have your photos taken or you can choose new poses and even give some colour to your new photos.
A more relaxed wedding day
A great advantage that the post-wedding report offers you is that you can be more relaxed on the day of the wedding. You will no longer have to worry about having a photo session after the wedding and before the banquet. Usually these moments are tense because you have to be impeccable and you also have to hurry up because the guests are waiting for the banquet or the food.
Therefore, doing this report a few days after the wedding gives you the peace of mind of not having to spend those hours doing the report or photo session outdoors or in certain landscapes.

What to look out for at your post wedding
You will have to know how to organize everything so that your session and the photos on your wedding day go in full harmony.
Some advice on what you need to keep in mind:
Meet the photographer
If you are interested in continuing to develop your post-wedding reportage in Ibiza with the same photographer who took the photos on your wedding day, you can meet him and establish the guidelines for how you are going to do the post-wedding reportage.
Set a day and time
Decide on the day and time you want to do the story. Take the opportunity to choose a day with a suitable climate or one that is more pleasant for you. Sometimes on our wedding day the weather is not good and the photos are not taken as well as they could be. That's why it's important that you set a day when you see that you're going to be alone or the temperature will be pleasant.
Decide on your style
Even if it's an after-wedding and you're going to be dressed the same as on the wedding day, you can also choose to make variations on the wedding day. For example, you may want to wear a different hairstyle, other accessories and even other shoes. This moment is the opportunity for you to choose how you want to portray that moment.
Choose your surroundings
On your wedding day the places for the photo session are limited by the place where the wedding takes place, so you can't go much further if you want everything to go on time. During your session you will be able to freely choose the place where you want to record so that everything will be more comfortable and simple and you will feel more free. Besides, you will give a different touch to your wedding.
Following these simple recommendations we believe that you will have no problem focusing your post-wedding report. However, it is advisable that you make sure that the person who takes the photos of the report is an expert and has the necessary experience and knowledge for this report.
---
Shall we talk about your hopes?
If you are interested in me being your photographer,
and telling the story of your wedding, contact me.
Call me now
+34 639 534 962
Send me an email