Friday February 15th, 2019
— Consejos
Ibiza, the best destination to celebrate your wedding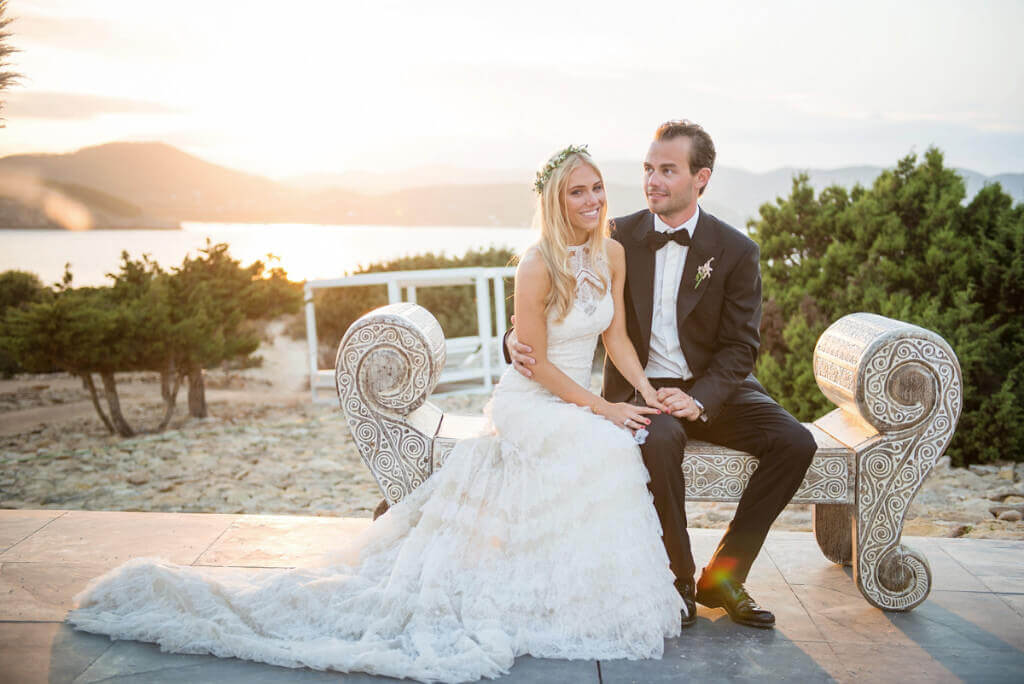 Magical, romantic and sublime by nature, the island of Ibiza is the best destination to celebrate your wedding and enjoy a day as special as you could only imagine.
The island and its charms
Its paradisiacal beaches, bucolic cliffs and mystical places will leave you breathless and you will come to believe that you are really living a dream. The fact is that this Mediterranean island breathes an air that infects romanticism and leaves those who visit it hopelessly in love. Besides a wonderful climate, excellent for relaxing and enjoying, you will find different places and iconic elements that will surprise you, such as
Small and simple churches over three hundred years old
The typical Ibizan architecture of wood, plaster and white
Private villas that seem to be inspired by fairy tales
The walled city that was declared a world heritage site
The deep blue sky and the crystal clear waters of the sea; its generous beaches and an all-around sun
Peaceful country settings full of carob trees, fig trees, almond trees, vineyards and fruit trees of all kinds
An idyllic wedding destination
It is no coincidence that, in recent years, Ibiza has become an increasingly popular destination for weddings, chosen not only by brides and grooms from Spain and even from all over Europe, but also from the rest of the world. A wide range of companies with a vast experience have been specializing over the years to make your moment special.
From the four corners of the world, in every corner of its magical spaces, Ibiza can offer you the most incredible deals to make your wedding truly unique. You will find charming rural hotels with multiple amenities; exclusive restaurants facing the sea with a wide range of cuisine; agritourisms with dozens of corners as unique as they are attractive; hippy markets that seem to take us back to the past; and romantic boats that venture out to sea in search of the most sublime sunsets.

Own style and glamour
Anyone who comes here, and in fact there are many reasons to do so, will understand very well why the demand for Ibiza style weddings is increasing every day. This island has subjugated with its beauty and professionalism even the most demanding personalities in the world of politics, finance, sport and show business.
Fonsi Nieto, Marisa Jara and Aitana Guillen Cuervo were just some of the renowned figures who fell under its spell. They, like you, were looking for a wedding destination that was not only very glamorous, but truly captivating; a place that deserved to witness that "I do" that would change their lives forever.
Native Elements
Strategically located in the Mediterranean Sea, it is not surprising that throughout its history, this island has been one of the most important centres for very diverse peoples, such as Phoenicians, Punics and Carthaginians. Therefore, if you are a lover of history, of the indigenous, or simply want to know elements of a fascinating idiosyncrasy, you can rejoice in discovering the most authentic and profound Ibiza, that which still has its roots in dazzling cultures.
A typical way of making the wedding take on a distinctly Ibicencan feel is to resort to the island's traditional dance, called ball pages. Another no less amazing way to dye the wedding with local colours is to incorporate their native craftsmanship to decorate the celebration, design the souvenirs or even, why not, prepare part of your guests' wardrobe.
Ibiza fashion: Adlib
If we talk about design, you have to know that Ibiza also has its own fashion called Moda Adlib. A very original way of dressing that since its emergence in the 70s, continues to evolve to stay ahead of the game.
It is a perfect style for the bride and groom, but also for all the guests that basically consists of wearing comfortable white clothes so that everyone's beauty is enhanced by the sunlight and contrasts exquisitely with the majestic blue sea, the golden beaches, the green and fascinating vegetation and a beautiful sky with all its shades of sky blue.
However, if the bride wants to reserve the colour white only for her dress – a very respectable decision indeed – the Adlib style also offers colourful, superb designs with a lot of personality so that all guests can feel part of an unforgettable party.
The hippie chic movement
As one of the oldest international refuges of the hippie movement, Ibiza continues to strongly embrace the pacifist and non-conformist spirit that characterises it, albeit under a new perspective and renewed name: hippie chic.
Creators from different parts of the world come to the island in search of inspiration, artisans make and offer their products in the curious markets, and numerous artists exhibit their works in the striking art galleries located throughout the island.
And since the hippie chic trend is such a fertile source of inspiration, it is also ideal for setting the mood, creating decorations and using typical Ibizan elements such as salt, wood, raffia, esparto grass and candles.

Exquisite gastronomy
Another essential aspect to make your party unique is the exquisite Ibizan gastronomy with which you can delight your guests and make them feel really good. Ibiza can not only offer you weddings on the beach; it also has a very unique gastronomic offer, in which the flavours of the sea and the land are combined, the tastes of tradition with those of the avant-garde, generating truly exquisite dishes.
A high level gastronomy prepared by professional chefs who work with local products, offering for weddings a very varied menu with carefully selected ingredients. Among them we can highlight red shrimp, fresh fish, black pork, Ibizan lamb and vegetables from the garden. And for dessert, the exquisite flaó or the delicious greixonera.
Destination wedding photographer
As a wedding photographer, I am ready to capture forever the soul of your ceremony and the joy of your party. As a destination wedding photographer I can get close to wherever you are having your wedding and make your love story into images that will last forever. This way you can relive them as many times as you wish, sharing all the love and charm of that unforgettable day.
Don't waste any more time and contact me right now: I can help you define all the details!
---
Shall we talk about your hopes?
If you are interested in me being your photographer,
and telling the story of your wedding, contact me.
Call me now
+34 639 534 962
Send me an email