Friday February 1st, 2019
— Consejos
How to choose wedding shoes: 6 key points
If you're wondering how to choose wedding shoes, then you've come to the right place. As a wedding photographer in Ibiza I know a lot about the subject and so I want to help you choose the right wedding shoes for you; a decision not as simple as it may seem at first sight.
Because wedding shoes should make you feel very comfortable at all times, fit the time of year, combine with the chosen dress, and of course, be in tune with the style of the wedding. As you can see, there are many factors to take into account.
But don't worry, here I summarize everything you need to know to make the right choice so that on your wedding day you can look radiant and feel comfortable with your shoes. Everyone will be dazzled by you, and I, as a photographer, will leave it duly immortalized in the images.
1. When to buy them?
Although it may seem strange to you, a very frequent oversight when choosing wedding shoes has to do with the time of purchase. Tied up in a multitude of issues that revolve around the wedding day, brides often underestimate this detail, which is not really something to be left to chance.
In order to avoid surprises, it's very important that you buy your shoes as soon as you have chosen your dress because this will not only allow you to check if it really matches the style of the outfit, but you will also be able to have them during the process of making or arranging your dress, and you will even be able to wear them beforehand so that, when the big day comes, they will be really comfortable.
And please, even if your dress is long and you wear a two-meter line, don't ever think that nobody will look at your feet: you will see that many guests will ask you to show them.
Wedding shoes are definitely playing an increasingly important role in the wedding look. As a wedding photographer, I can assure you that I will also ask you to look at them so that I can take several pictures that will be absolutely incredible.
2. Are they comfortable?
Comfort is a decisive issue: if those shoes that you fell in love with don't fit you comfortably, forget about them and decide to choose others that fit better. So the first question you should ask yourself when choosing them is: will I be able to wear these wedding shoes for so many hours? As you know, new shoes can always lead to scratches and injuries.
To start shaping them you will have to wear them at home several weeks before. You can speed up the process of adapting the shoes to your feet by smearing them with moisturizing cream inside and wearing them with thick socks.
Another highly recommendable option is to take them to the shoemaker to be placed in a last for some days or also, although with the care that this entails, to introduce them inside a water bag and put them in the freezer. In both cases you will get them to widen a little.
Another highly recommendable option, almost as a plan "b", is that you have Compeed in your bag, a product that is applied to the areas most prone to suffering and that forms a kind of invisible film on your feet; this way you will avoid unpleasant moments with your shoes. In any case, it's a good idea to seriously consider having a second pair of shoes, as a spare, that you'll find much more comfortable to wear to the party.
Remember that your wedding will be a marathon session for your feet and that if you are not comfortable with them, it will affect your body attitude and could even ruin your day. Believe me, I have a long experience in the subject since I have lived it in many events.
3. What are your needs?
Before you go out and choose your wedding shoes, it is essential that you are clear about three other elements that are decisive when looking for them: the place, the time of year and the time of day when the wedding will take place. If you are getting married in winter, it is best to choose a closed shoe that protects you from the cold and humidity.
If you get married in summer, or even in spring, you will have to consider, besides the heat, the land. Wearing high heels when you get married on the beach or in an outdoor space, whether it is grass or stone for example, would not be a very good decision either.
Keep in mind that delicate and fun colors are for daytime celebrations, while intense, metallic or bright colors are ideal for evening celebrations.
4. What is the ultimate in form and design?
In recent decades, the supply of wedding shoes has grown exponentially, to the point that the market today is incomparably larger than that of a few decades ago, like the one your mother or grandmother knew. But also, since bridal footwear trends are updated season after season, it is important to know what the main groups are, broadly speaking: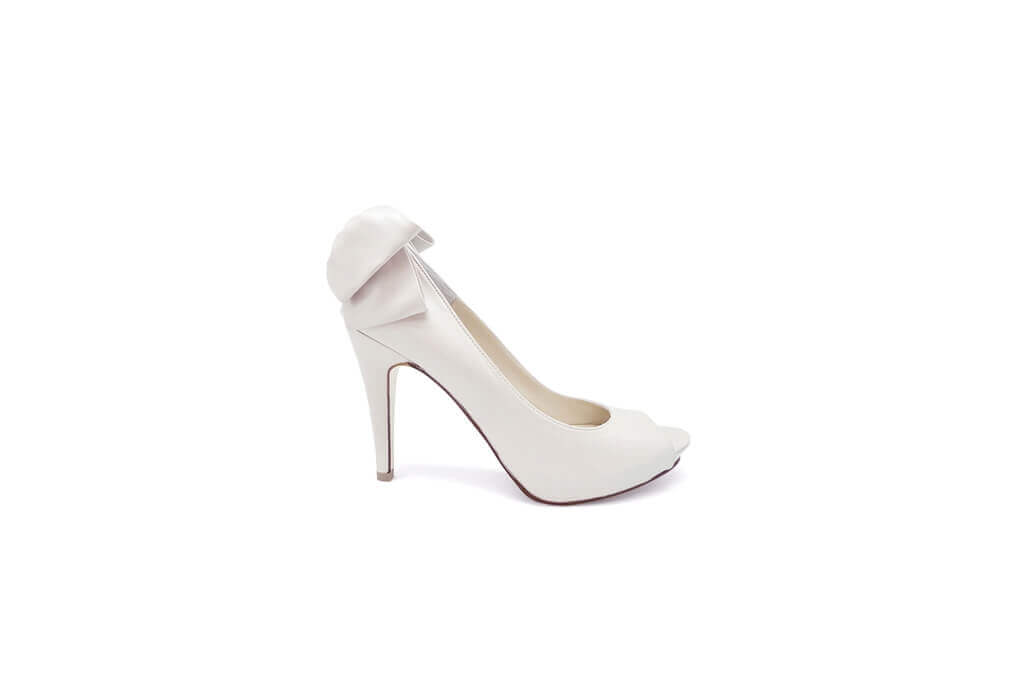 Classics: The classic wedding shoe is characterized by a smooth and simple style that, whether stiletto, peep toe, round toe or open back, will best accompany a traditional bride during a solemn ceremony and a regal celebration. Precisely because of its classic elegance, this type of shoe is singularly appropriate for all types of dresses, weddings and seasons. However, they never match as well as when chosen as a complement to majestic princess dresses and thick fabrics such as satin and satin, or for short, simple or vintage style dresses. Some of the most famous brands of classic shoes are: Nicole, Alessandro Rinaudo and Unisa.
Wedges: that shoe that historically was a spare for the bride, evolved and for some years has become the main shoe for her in her day. Wedges are the favourite footwear for outdoor ceremonies where surfaces are complicated, such as grass or stones, which can play a trick. Thanks to this shoe, you will feel very comfortable and calm knowing that they will be your allies during that wonderful day. They are ideal for boho or rustic brides. Some of the most outstanding firms in the making of the wedges are: Rosa Clará and Zendra Basic.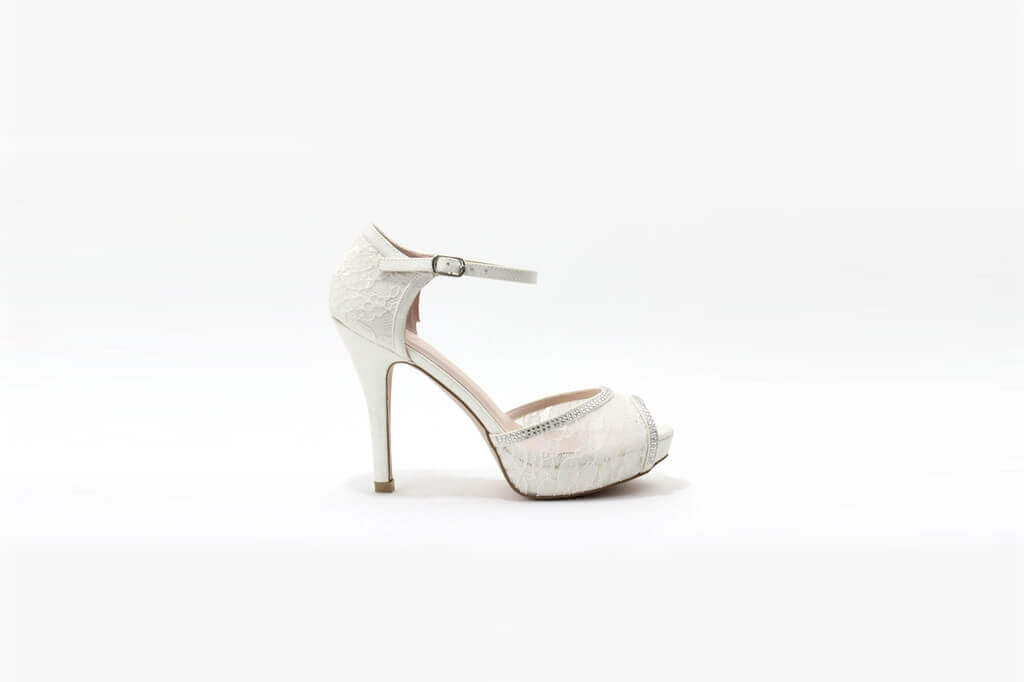 Lace: over the years, lace shoes have also undergone a real revolution in the market, and this is thanks to the evolution that has taken place in the fabrics and materials with which they are made. They are very different shoes, usually shoes and sandals, which however have something in common: they are all lined with white lace, uniquely inspiring in terms of sweetness and romanticism. If your dress is rather simple and made of light and smooth fabrics, then don't hesitate: a lace shoe may be your best option. There are currently three very prominent brands: Jimmy Choo and Egovolo.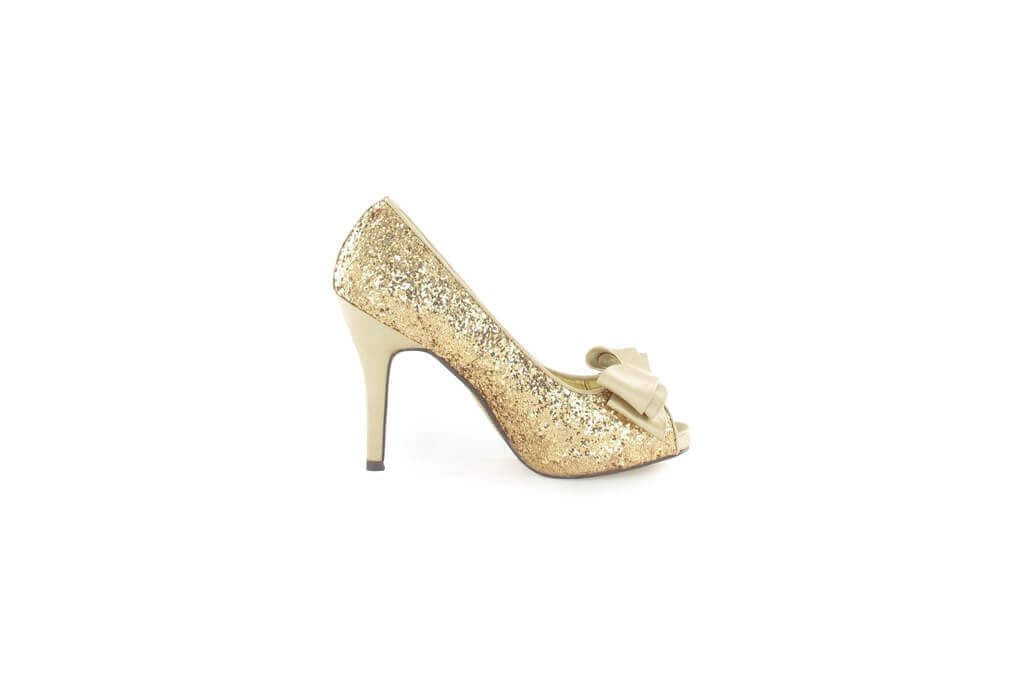 Glitter: these shoes lined with glitter are increasingly popular for their extraordinary beauty but also for their great versatility. No matter what time of year the wedding takes place or the bride's style, the only thing these shoes will demand from you is the audacity to choose them and sobriety so as not to overload your dress. Remember that if you choose a pair of glitter shoes, you must give all the attention to your shoes.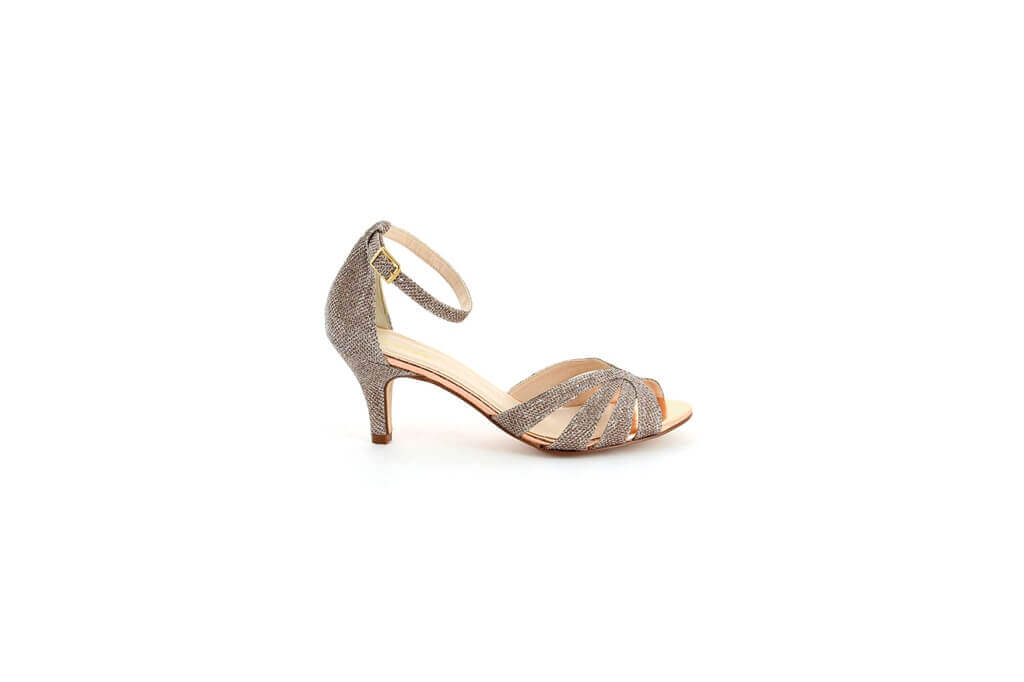 High-heeled sandals: ideal for brides who get married in summer, but also very accepted by the more stylish ones who run away from classic shoes, high-heeled sandals are the perfect excuse to acquire a shoe that will not only serve you on your wedding day but also in future events. They usually come in light tones such as white, gold and silver, and are perfect for taking risks with design and breaking with the traditional bride's conventions. Among the most famous brands, the following deserve to be mentioned: LODI and Pronovias.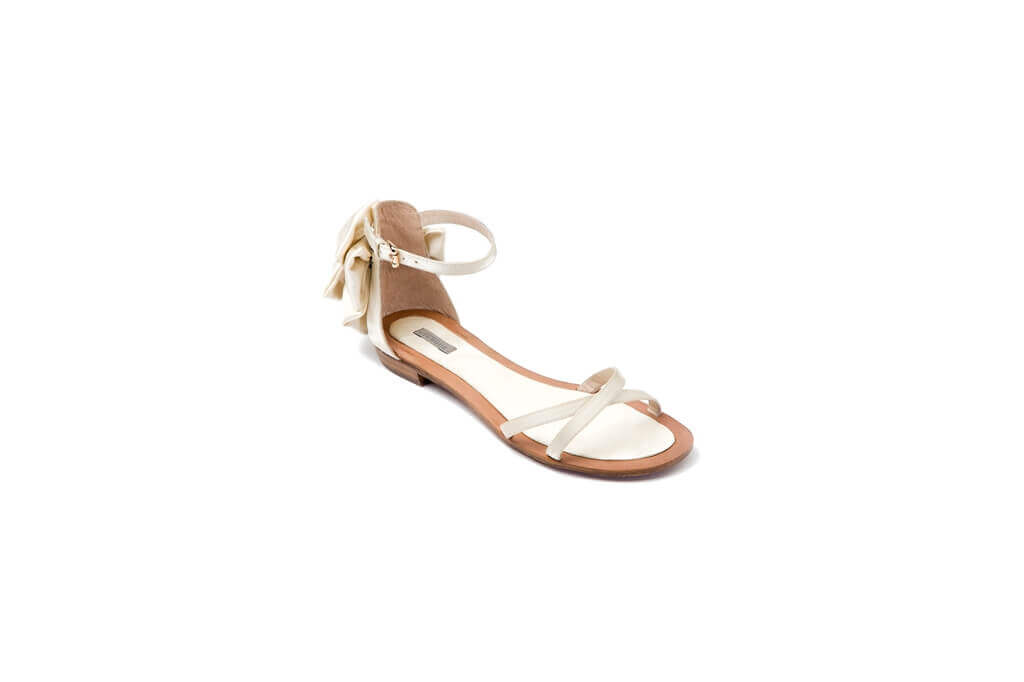 Flat sandals: fresh and summery, designed to enjoy a wedding outdoors, in direct contact with nature and especially to wear at the beach, this type of footwear is designed for the boho or rustic brides who prefer to make sure they enjoy their day without having to climb on the heels. The offer of flat sandals is growing every day, so you will find a great assortment so that you can choose the one that best suits your style. Nowadays, the most outstanding brands are: Aquazzura and Stuart Weitzman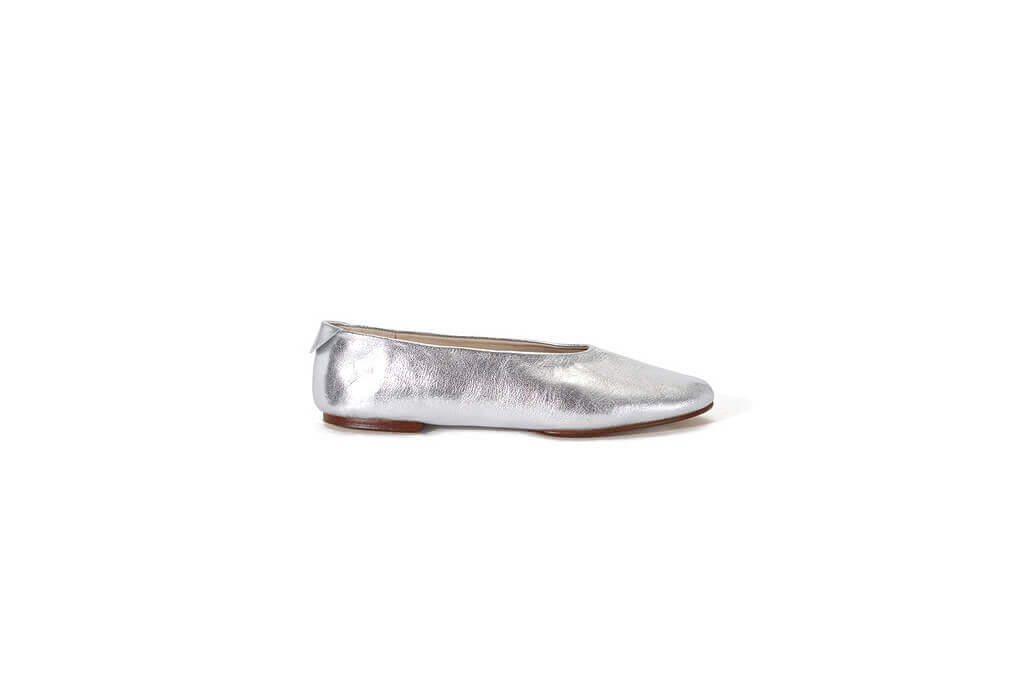 Dancers: If you think that flat sandals offer too much of an image for a special moment such as a wedding, but at the same time you don't want to give up on the comfort they provide, then flat sandals are the perfect choice for you. With an elegant but sober style, designed for a not so hot time of the year and ideal for short or midi dress looks, vintage and pleated skirt or spades, ballerinas are the best choice. At the same time, the latest in this footwear, which is a rage in the USA, are the ballet dancers. I recommend you the following bridal shoe brands as far as dancers are concerned: Pretty Ballerina.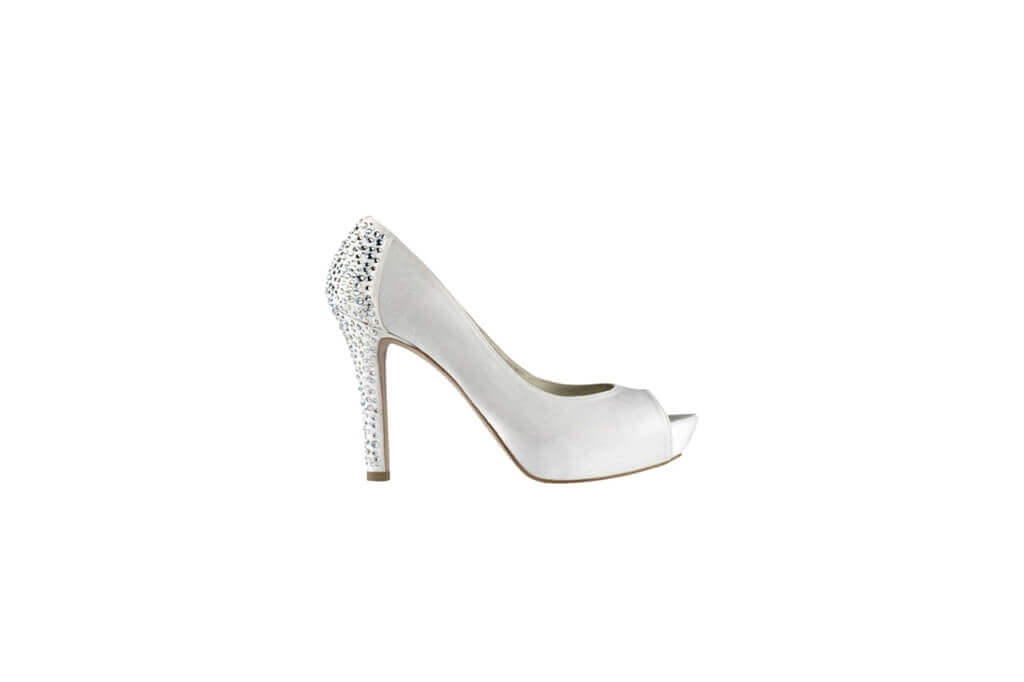 Rockers: if conventions don't suit you and what you are looking for is a different shoe, which allows you to transmit your whole personality, avoiding both prejudices and fashions, then this is the option for you. With a pair of rocker shoes you can definitely give a coup of style and originality, which will also be ideal to use again in later events. The offer is very varied because each brand puts the accent on a different type of shoe. You can find, in Rosa Clará, original lattice boots and in Pronovias, shoes made of methacrylate with stones; both are ideal for winter. For summer or spring, you can choose Valentino's famous Rockstud, open at the back and decorated with studs.
5. How to combine the wedding shoes with the wedding dress?
Although it is true that it would be practically impossible to make a list of the different types of wedding shoes according to the various possible conditions in each specific case, we want to give you as many elements as possible so that you can make this decision without giving up good taste, much less your personal style. Broadly speaking, we can say that if your wedding will take place during the day, it is preferable that you opt for softer and more cheerful tones, while if you do it at night, you will be able to wear much more intense colours as well as metallics and glitter.
On the other hand, it's good to know that brides prefer the color white on their shoes to contrast with the tones given by the environment where the wedding will take place, whether in gardens or on the beach. This goes perfectly with the current trend of using rather bright and cheerful colors, such as pink in its various shades, blue to preserve the tradition, silver for the night and multicolored for the brides who like to be in the vanguard.
Regarding the latter, let me tell you that if your wedding has a fun and playful tone, your shoes can have it too. Ultimately, the bride will always get all the looks and she can break protocol with a few brightly colored dancers, like red or royal blue, or quite the opposite, take a chance with a total gray look. In any case, keep in mind that white and ivory tones can vary and be difficult to combine. Therefore, try to choose a different color or seriously consider dyeing your shoes to match your dress perfectly. Not only will you look incredibly beautiful, but you will also help me make all my pictures equally unforgettable.
6. May I give you one last piece of advice?
When it comes to choosing wedding shoes, don't forget that the important thing, apart from the comfort of the shoes, is that they respond in the best way to your personal taste. For example, if you decide to choose a long dress, but you are not used to wearing high shoes, forget about them! Choose the alternative that best suits you. The important thing is that you feel happier than ever.
Always remember that nothing is written in terms of taste, so you should be the one to decide how and why to combine that pair of shoes you have in mind with your dress and your wedding in general. May everything be made to fit you and may everything follow your style, just as you are, naturally. In this way you will feel confident about everything you have chosen, even the smallest detail, and that day you will transmit it: you will be radiant and everyone will feel happy to be there, sharing with you that unique moment in your life.
As a wedding photographer in Ibiza, I am ready to capture forever, the soul of your ceremony and the passion of your party. I can make your love story into images that will last forever so that when you see them again you can relive, as many times as you like, all the love and best memories of that unforgettable moment.
Contact me right now and let's start defining all the details!
---
Shall we talk about your hopes?
If you are interested in me being your photographer,
and telling the story of your wedding, contact me.
Call me now
+34 639 534 962
Send me an email